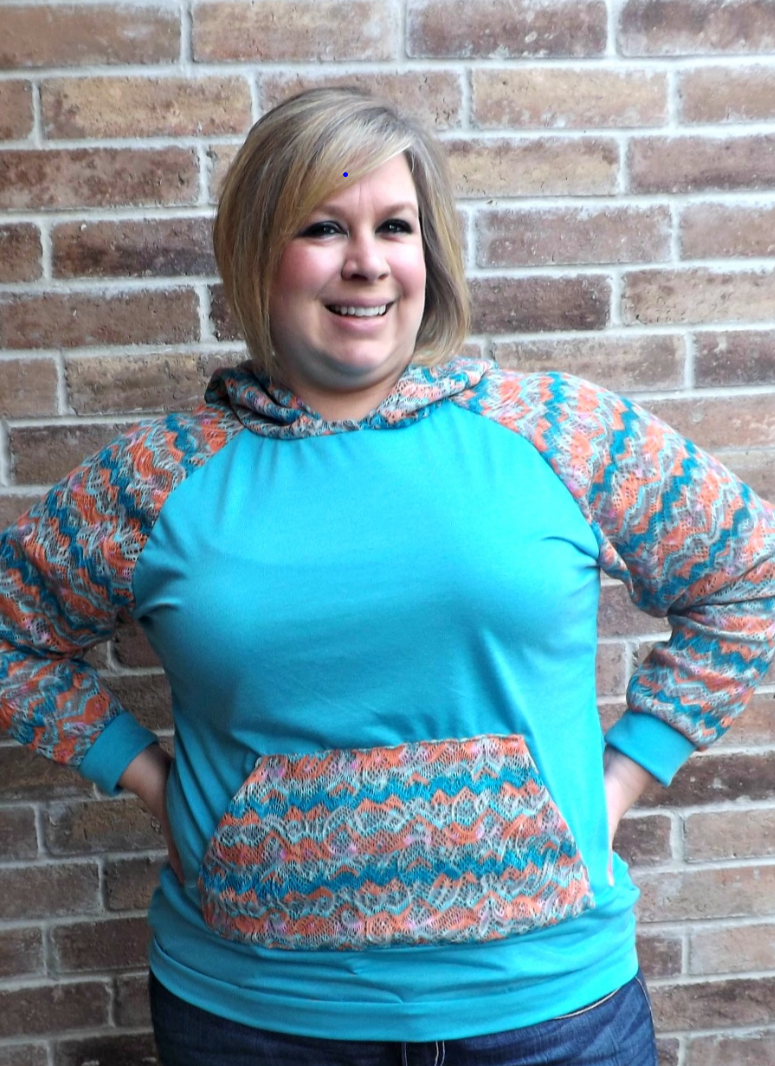 Women's Raglan Hoodie sewing pattern
Women's Hooded Raglan Sewing Pattern
Women's Hoodie PDF sewing pattern
all sizes included XS-XXXL
*Pattern prints on US Letter size paper, A4 size paper and we even include an A0 copy shop size for you!
Tired of store bought hoodies in plain solid fabric? Then this Women's Hooded Raglan Sweatshirt sewing pattern is just for YOU! This pattern will help you create a hooded raglan style sweatshirt with cuffed sleeves, a cuffed hem and an optional kangaroo pocket! The sleeves come in three lengths: short, 3/4 length sleeves or long sleeves! Afraid of sleeves? No problem! The raglan sleeve style is made with diagonal lines which make this top quick to create and there is no gathering or insetting of sleeves! Simply pin together and sew!
The Women's Hooded Raglan is quick and easy to make and can be made in your favorite stretch knit such as double knit, interlock jersey, lightweight to medium weight knit, light weight terry fleece or similar! Imagine this in navy and white stripe with navy sleeves and hood or a shimmery sweater knit with solid sleeves! There are so many possibilities!
*All sizes XS – XXXL (sizes 0-26) are included in this pattern. This pattern features 26 photo illustrations and tutorial-style instructions to help you create your very own top today!
Full-sized, color-coded pattern pieces are included for all sizes. Petite, regular and tall hem lengths and sleeve lengths are included, along with petite and regular size widths. Let's get sewing!
Size Bust Hips Waist
XS (0-2) 31-33 in. 33-36 ½ in. 23-25 in.
S (4-6) 33 ½ -35 in. 37-38 ½ in. 25 ½ - 27 in.
M (8-10) 35 ½ -37 in. 39-40 ½ in. 27 ½ - 29 ½ in.
L (12-14) 37 ½ -40 in. 41-43 in. 30-32 ½ in.
XL (16-18) 40- 42 in 44-46 in. 33-36 ½ in.
XXL (20-22) 44-46 in 46- 48 in 37-39 in
XXXL (24-26) 47-49 in 49-51 in 40-43 in
Suggested fabrics:
Stretch knits only; double knit; interlock jersey; Lightweight to medium weight knit; light weight terry fleece; cotton/lycra; jersey rayon; ponte; performance knit
Materials:
Fabric needed: 3/4 yards – 7/8 yards of 54-60" wide fabric needed for bodice; 1/2 – 5/8 yards of 54-60" wide fabric needed for sleeves; 1/2 yard of 54-60" wide fabric needed for hood in all sizes; 1/4 yard of 54-60" wide fabric needed for cuffs and hem band in all sizes; 1/4 yard of 54-60" wide fabric needed for kangaroo pocket (optional)
*ballpoint needle for knits needed; walking foot (optional)